蘫花園燒烤盛宴 Grill & Chill in the Garden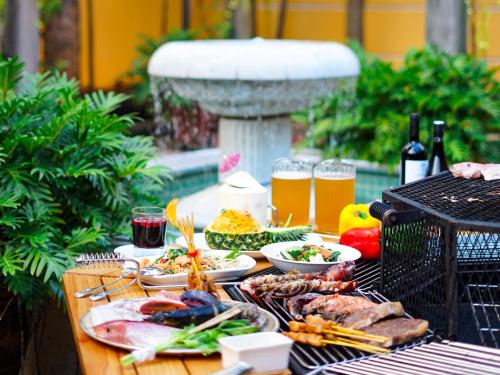 供應時間 Serving Time:
每天 Daily | 12 noon - 2:30 pm, 6:30 pm - 10:30 pm
*此餐單不包含飲料,飲料需額外支付費用
*This menu does not include beverage, and additional expense is incurred on beverage if required.
>>下載餐單 Menu
預約或查詢 Reservation or Enquiries:+853 8793 4818

細則及條款 Terms and Conditions:
以上價目需另加百分之十服務費及折扣不適用於此促銷餐單。

All prices are subject to 10% service charge and discount is not applicable to this promotion menu.

蘫花園燒烤盛宴需提前1 天預訂,並需至少四位客人惠顧。

1 day advance reservation with at least four guests required for the Grill and Chill at the Garden.

所有預訂均需支付押金。
Deposit for all bookings is required
This offer cannot be used in conjunction with other promotions.
無限暢飲套餐包括軟飲或啤酒,如有需要,請告知服務員。
The Free flow drinks package includes soft drinks and/or beers which are served upon order.
Grand Lapa, Macau reserves the right of final decision in case of any dispute.